Atom ™の新ライブセットとアートの融合
常に主流のダンス・ミュージックからは一定の距離を保ちながらも、Atom Heart、Señor Coconutといった名義でも活動し、エレクトロニック・ミュージックの多角的な表現を開拓してきたAtom ™。これまでも、彼を度々招聘してきた、新感覚の実験的パーティーBcc: Holidayが、Atom ™新たなライブセットの本邦初公開を実現。同パーティーではお馴染みとなったGonnoとDJ NOA、そしてアートに深い造詣も持つ個性派DJ 1-Drinkも参戦。さらに、世界的な写真家である蜷川実花が、この日限定の音楽にリンクしたインタラクティブなインスタレーションを制作・展示することになっており、通常のクラブ・イベントの枠を超えた、聴覚と視覚に新たなセンセーションをもたらす夜となりそうだ。
Atom ™'s brand new live set and the integrated art
Atom ™ is an artist who consistently explored different dimensions of electronic music expression by setting him off from the mainstream dance music but through various aliases such as Atom Heart and Señor Coconut. An experimental party series Bcc: Holiday has been hosting his show in the past, and once again, presenting his brand new live set to be played first time in Japan. Supported by the party's trusted DJs Gonno and DJ NOA, as well as an uncommon styled DJ 1-Drink. There will be a special one-off exhibition of world-renowned photographer Mika Ninagawa's interactive photo installation that works with music. Expect the unexpected – a new sensation to both your ears and eyes.
STUDIO X

Atom™ (Senor Coconut)

Gonno (WC | Merkur | mulemusiq | International Feel)

1-Drink

DJ Noa
CONTACT

Bcc:Holiday Lounge

Timothy really Lab

CCDC (MTP)

Slow Mo' DJs

Blind Carbon Copies

Special Feature:

Interactive Photo Installation by
Mika Ninagawa
OPEN

22:00
BEFORE 11PM

¥2000

UNDER 23

¥2500

GH S MEMBER

¥2500

W/F

¥3000

DOOR

¥3500
GENRE

Techno | House
入場料金はSTUDIO X (MISSION) 施設使用料として頂いております。
Admissions are for the use of facility MISSION STUDIO X.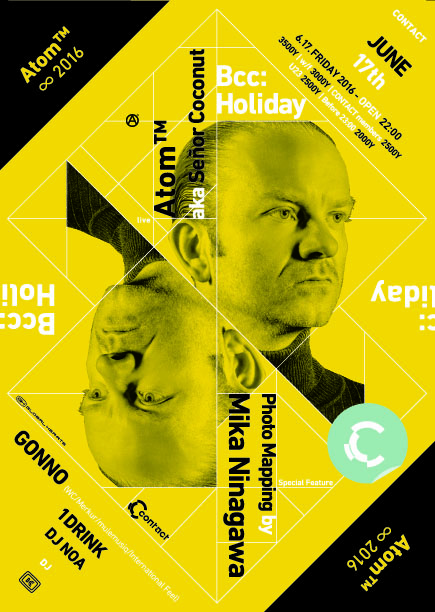 Gonno's set last year for Boiler Room Tokyo's 5th Anniversary.