多様なシーンとそこに関わる人々が交差し、独創的な夜を演出する
GEZANとGHPDが彼ら共同でリリースする7インチレコードを記念し、特定のジャンルには囚われず、多角的に、またコンセプチュアルにオーガナイズされた特別な一夜を演出する。
日本各地から集まる数々の才能がContactの各フロアに散らばり、個性を発揮し、刺激し合うこのイベントは容易に体験できるものではないだろう。
Studio Xはライブアクトを中心に構成され、Contactフロア、FoyerフロアではDJを中心としたラインナップだが、一癖も二癖もある面々が名を連ねている。
一見、統一感がないと思われるかもしれないが、日本が誇る個性派アーティストたちが送る表現の数々を、固定概念を捨て、オープンマインドに心ゆくまで味わってみてほしい。
A night of creativity brought to you by various artists from different scenes
To commemorate GEZAN and GHPD's 7 inch release of their collaboration work, Contact brings you a conceptual evening without borders. Experience a gathering of all types of artists from around the nation.
Studio X will be focusing on live performances, while Contact and Foyer floors focuses on DJ acts. A lineup that is bound to keep you interested throughout the night. Come with an open mind and experience first hand at Japan's finest artists.
STUDIO X

GEZAN
GHPD (OMSB | USOWA | Hi'Spec | YELLOWUHURU)
Campanella
Ramza
GOD
QN
the hatch
KK manga
CONTACT

DJ YAZI
Akiram En
YELLOWUHURU
Akey

FOYER

-produced by deep listening lab "ideala"-
DJ Kuri -Listening Set
DJ YAZI
Tasyo Ishizawa
Speedy Lee Genesis
strawberrysex
脳BRAIN
wagot
eminemsaiko
浮舌大輔
and more
OPEN

22:00
UNDER 23

¥2000

GH S MEMBER

¥2500

W/F

¥3000

DOOR

¥3500
GENRE

Rock | Hip Hop | Techno
入場料金はSTUDIO X (MISSION) 施設使用料として頂いております。
Admissions are for the use of facility MISSION STUDIO X.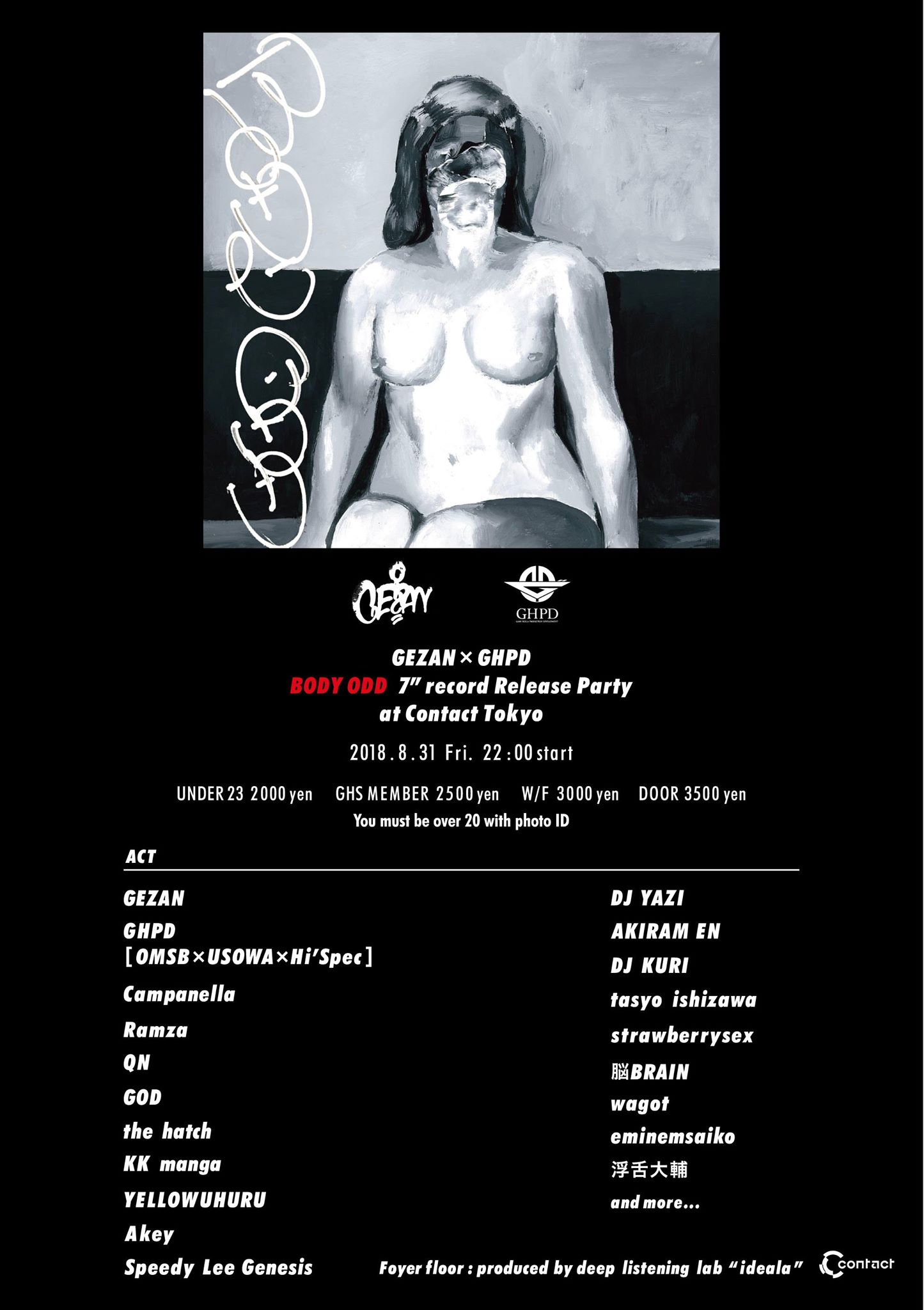 GEZAN「BODY ODD」
feat. CAMPANELLA, ハマジ (KK manga), LOSS (ENDON), カベヤシュウト (odd eyes), OMSB