2人の逸材が築く新時代の基礎
飽くなき挑戦心と絶え間ない情熱の継承によって、およそ半世紀にわたり世界の音楽をリードしてきた街、デトロイト。そんな街が生んだ2人の逸材、Kyle HallとJay Danielが地元で開催し、若年層から熱烈に支持されているパーティー「Fundamentals」が日本に上陸する。若くして地元の先駆者たちに見出されキャリアを始めた2人。Kyle Hallは2007年に16歳でOmar SのレーベルFXHEからシングルデビューし、Jay Danielはデトロイト市主催の「Movement Festival Detroit」へ出演後の2013年に22歳でTheo ParrishのSound Signatureからデビューした。Fundamentalsは2人の間に深い繋がりを生んでおり、Kyle Hallが主宰するWild Oatsから発表されたJay DanielのEP「Karmatic Equations」に漂う熟成ぶりは、既存のハウスを超越せんとするKyle Hallの姿勢と共鳴し編み出された結論とも言える。2015年には、Kyle Hallはヴァイナル3枚組のアルバム「From Joy」で、Jay DanielはセルフレーベルWatusi Highを設立して新境地へ進出。もはやフューチャークラシックという概念の先導者である。共演には、多様なNYアンダーグラウンドを熟知するDJ Kogaと、デトロイト第3世代特有の越境感覚でグルーヴを紡ぐYOUFORGOT。Contactエリアには、マニアが集う、ある種のローカリズムを持つ日本各地のホットスポットのレジデントたちが集結する。
Two talents from Motorcity lay the foundation for a new era.
With a rich heritage of unbridled ambition and undiminished enthusiasm, Detroit has been inspiring the music scene across the grove for some decades. Two talents from Motorcity, Kyle Hall and Jay Daniel take over Studio with Fundamentals, their much-loved local night that has gathered amid young supporters. The career of the two whizz-kids began when the city's legendary seniors took them under their wings. At the age of 16, Hall made his debut with a 2007 EP for Omar S' FXHE while Daniel played the Movement festival in Detroit before his first appearance on Theo Parrish's Sound Signature in 2013 when he was 22. Their mutual relationship has deepened through the Fundamentals nights. Daniel's Karmatic Equations EP for Hall's Wild Oats imprint appears fully fledged, resonating with the label boss' out-there attitude to existing house. 2015 saw them entering a new phase with Hall's From Joy triple album and the establishment of Daniel's Watusi High label. Both have now grown into trailblazers framing the concept of future classic. They are joined by New York underground music master DJ Koga alongside Youforgot, whose set is infused with a particular sensibility of Detroit's third generation that ranges a broad stylistic spectrum. The Contact floor juxtaposes residents from hot spots in Japan that have attracted local music heads, showcasing their characteristic regional tastes.
STUDIO X

Kyle Hall (Wild Oats | from Detroit)
Jay Daniel (Watusi High | Wild Oats | from Detroit)

DJ Koga (14Catherine | Jazzy Sport | The Oath)
YOUFORGOT (Ugfy.)
CONTACT

Wada Yosuke (Lobust | spotseek)

DJ Razz (Kosmologi | Garage Records)

André McLeod (upper ghetto)

Koko Miyagi (Water Works | NCA)

Tikini (Water Works | Osiris DCLXVI)
OPEN

22:00
BEFORE 11PM

¥2000

UNDER 23

¥2500

GH S MEMBER

¥3000

W/F

¥3500

DOOR

¥4000
GENRE

House | Techno
入場料金はSTUDIO X (MISSION) 施設使用料として頂いております。
Admissions are for the use of facility MISSION STUDIO X.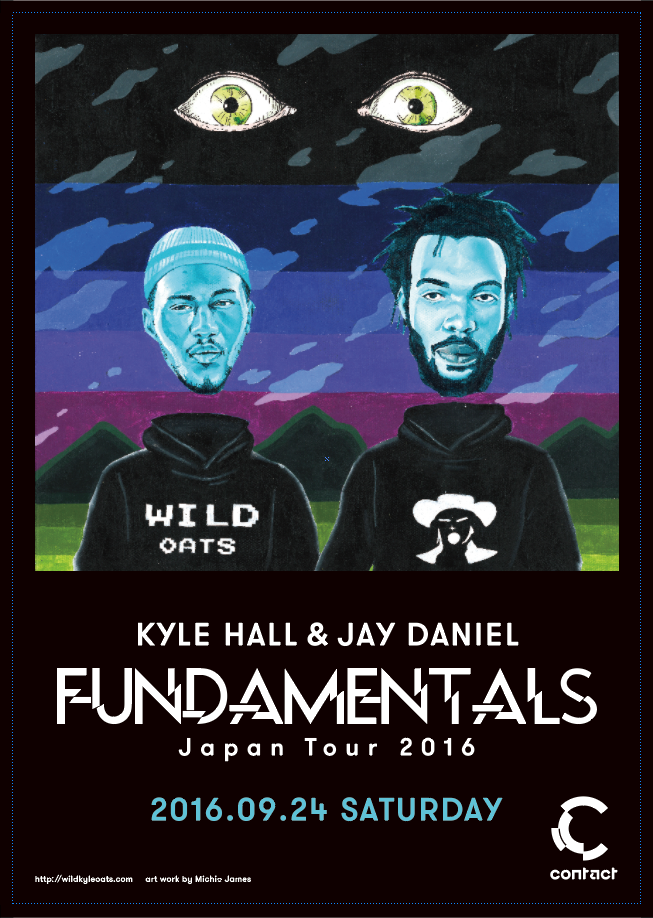 Kyle Hall Boiler Room Detroit DJ Set
Jay Daniel Boiler Room DJ Set at Sounds Of The Universe