ダンスフロアそのものが生命力溢れる、力強くも新しいハウス・パーティ
多種多様な表現とコミュニティを結びつけるハウスの引力は、どこまで人の心を繋ぎ、揺さぶることが出来るのか。Dazzle Drumsが主宰する〈Music Of Many Colours〉。今回はロンドンから最新のアフロ/ソウルフルハウスを牽引する〈Tribe Records〉主宰Zepherin Saintが『The Dub I Lost…』Release Tourの一環として登場。ダンサーNAOKIが主導する"million SITUATION"は、池田憲一a.k.a. ROOT SOULを中心とするベース、サックス、ギター、TR-8の即興演奏とのセッションを核に、従来のショウケースとは一線を画すダンスフロアでの表現を追求する。Contactフロアにはアナログに拘り黒いグルーヴを構築するTakehiko Kitahara、新宿2丁目のハウス・パーティ〈Robot Funk〉からDJ WARAとSHOWHEY、NYハウスを中心にダンサーからの信頼も厚いKaji、またStudioのウォームアップにはDazzle Drumsと毎月〈Block Party〉で共演しているKengoが出演。DJ、ダンサー、ミュージシャン、照明、内装、それぞれの表現と聴衆のリアクションが交差する、ハウスの醍醐味を存分に堪能出来る一夜。
The new energetic House Party brings the dance floor alive.
The power of expression and bringing the people together as a community is something that House Music has. "Music Of Many Colours", organized by Dazzle Drums, stays true to that concept. For this rendition, the boss of London's leading Afro/Soulful House label "Tribe Records", Zepherin Saint makes his appearance for his 「The Dub I Lost…」Release Tour. "million SITUATION" led by dancer NAOKI features an improvisational session with Kenichi Ikeda on bass, along with sax/guitar/TR-8. Supporting the headliner are Dazzle Drums and Kengo, who's also a regular at the monthly party "Block Party". Takehiko Kitahara, DJ WARA and SHOWHEY from "Robot Funk" party, and Kaji will be navigating the Contact floor with their various House grooves. This will be a night where DJs, musicians, dancers, lighting and the atmosphere all comes together.
STUDIO X

Zepherin Saint (Tribe Records)
Dazzle Drums (Nagi & Kei Sugano | Block Party)
Kengo (Block Party)

-House Dancers for "Freedom Music" –
AIKO, AKI, brown, KENGO, KEIN, KYO, NAOKI, YUYA
-Live Session Dancers-
FooL, Gentaro, Jasmine, KON THE FUNK, O-no, REI, Richmond, Sakikomine, SANA, T.I.C
-Pair Dancers for "Optimistic"-
Ai, Anna, Ayu, GENKI, Lisa, Mitsuki, 馬壱, YuYa
-Floor Creation Dancers-
SIVA

-million SITUATION Special band-
Bass: 池田憲一 a.k.a. ROOT SOUL
Sax: 福島健一
Guitar: 大舘哲太 (JariBu Afrobeat Arkestra)

-Dancers Planning- million SITUATION

-Deco- Jambow! (Block Party)
-Lights- Machida (Block Party | LS Works)
CONTACT

Takehiko Kitahara

WARA (Robot Funk)
SHOWHEY (Robot Funk)
Kaji (xxx | WITT)

-Food-

ガパオ食堂、Bahama Kitchen
OPEN

22:00
BEFORE 11PM

¥1000

UNDER 23

¥2000

GH S MEMBER

¥2000

W/F

¥2500

DOOR

¥3000
GENRE

House
入場料金はSTUDIO X (MISSION) 施設使用料として頂いております。
Admissions are for the use of facility MISSION STUDIO X.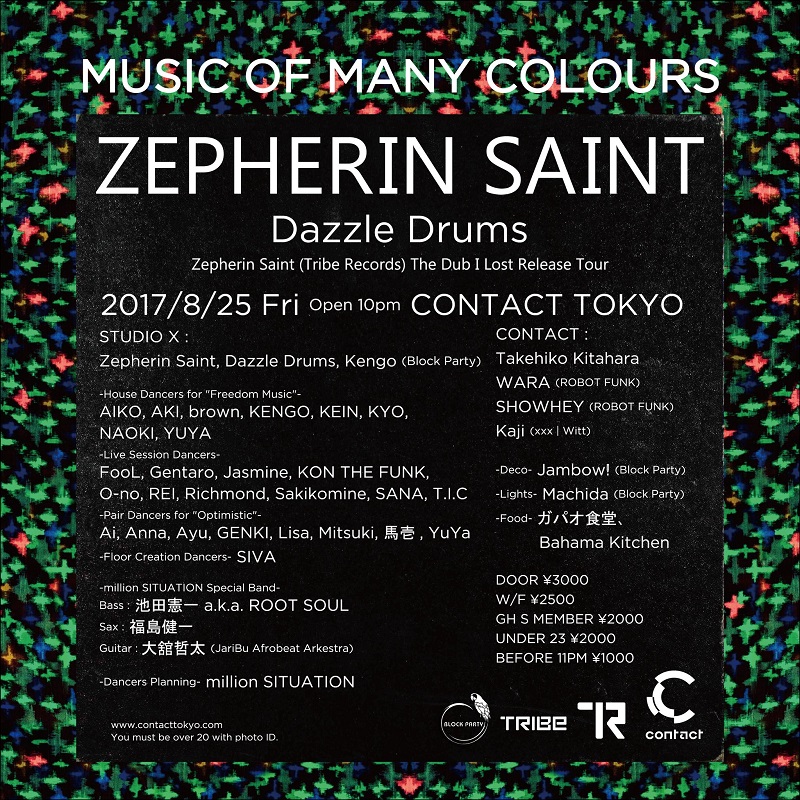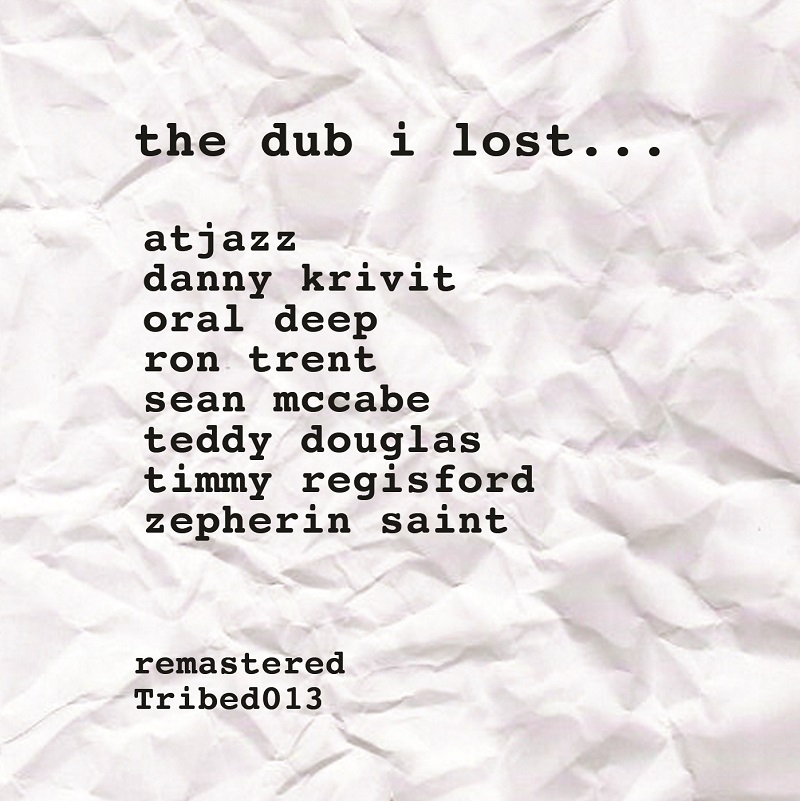 ZEPHERIN SAINT ゼッフェリン・セイント
『The Dub I Lost…』 (国内仕様/帯解説付き)
2,268円(税込) 2017年08月09日 発売予定
MUSIC 4 YOUR LEGS / JPN / CD / IMFYL089