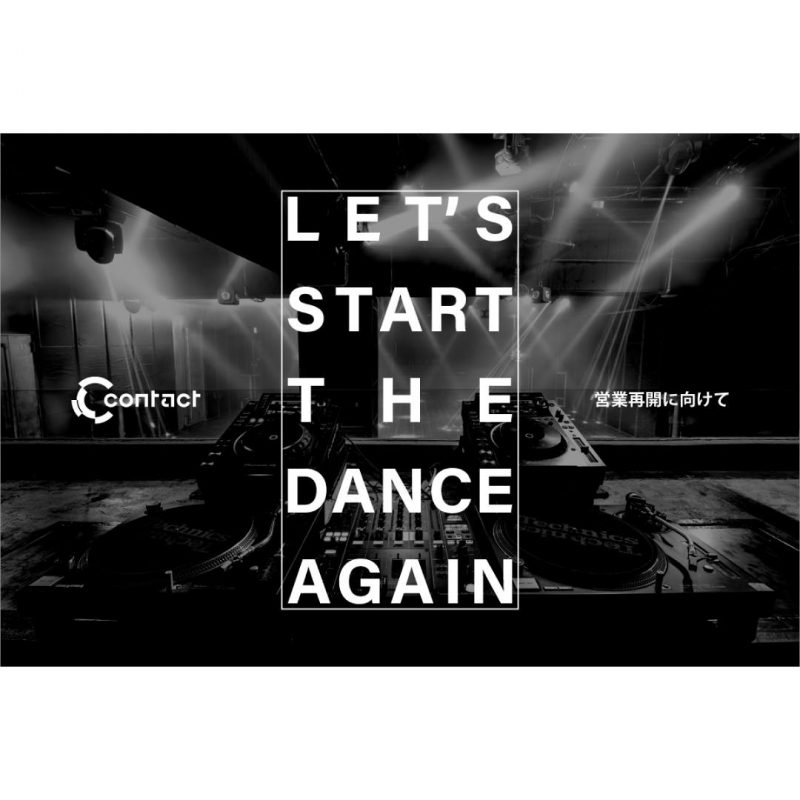 – Let's Start The Dance Again – The aim to reopen Contact.
We've started Crowdfunding.
Here's the link to the English page https://camp-fire.jp/en/projects/view/290444
From Contact staff
Since the end of March, Contact has been closed to prevent the spread of coronavirus.  Despite the lift of the state of emergency, we are still facing uncertain times.  In effort to reopen our doors again in the future, we humbly ask for your support.
In April of 2016, Contact opened, and we would have celebrated our 4th anniversary this year.  The decision to close due to the pandemic was devastating for us all, but we are forever grateful for the support we've had from artists, DJs, and our customers since the beginning.  
It was in February when we began to see the impact of the coronavirus.  Gradually, we saw less tourists and more locals staying safely put in order to prevent the spread as the days went by.  In February and March alone, we were hit with a financial loss of 10,000,000 yen.  The numbers are continuing to increase due to rent, fixed costs, and other expenses during our temporary closure of the venue.  We plan to reopen as restrictions soften, but we do have to keep in mind that a club environment brings people in close range of others.  Thus, number restrictions for entry will have to be put in order, and it will take a while until we start to see our margins eventually rise.
Being afflicted with the idea of asking for donations to keep the club running while many people all over the world are in desperate need of help was something quite difficult. But considering financial aspect of starting a venue of this size from scratch in Tokyo would be more damaging than trying to keep our current venue alive and getting past this crisis, as it would cost more than two hundred million yen. This is the reason we came to the conclusion of starting our crowdfunding.  Reducing our operation with restrictions will be difficult financially, but to continue our journey with you all, we need to acquire the running costs.  
In the return goods section, we have added「Support our part-time staff members」to the list to request for help of part-time employees for any work that corresponds to getting ready for our reopening.  The harsh reality is that most of our on-site staff members are currently unable to receive any compensation nor financial relief.  Contact has been supported by many part-time/outsource staff members.  After 4 years since opening, many have come and gone.  Raising a staff also helps the venue to grow, which is why it's always unfortunate and saddening to see a staff member leave.  It would be a shame to see our staff members leave Contact due to the coronavirus, and it is our goal to have as many of them come back, also to leave a path for the club community as a lifework.
When leaving a support comment, It would be much appreciated if you could leave some feedback for improvements, things you like/dislike, artists and DJs you would like to hear, etc.  We wish to continue creating Contact along with all of our supporters.
Let's Start The Dance Again.
Take care until we meet again on the dance floor.
< Yuko Ichikawa >
First and foremost, we would like to express our deepest gratitude to all medical personnels, logistics personnels, and to all who have been working relentlessly to bringing back humanity back during a time of crisis on a level that we have never experienced before.
Under these unforeseen circumstances, Contact has come to a point where we need the help from our supporters.  In April of 2016, Contact opened its doors specializing in quality dance music that we the people (our staff included) could enjoy.  We had planned our 4th anniversary party in April 2020, but unfortunately could carry out the plan as scheduled.  
Even with the state of emergency being lifted, it is still uncertain when we will actually be able to open our doors again.  And when we do, things will not be the same as it once was.  Guidelines, contents, expenses, and everything else that come into the picture.  The longer we stay closed, the less chance we have of continuing the venue.  We ask you for your support in order to overcome this hardship and to see everyone on the dance floor and the bar counter again.  
< -Manager- Yuichiro Yamashita >
The state of emergency has been lifted in the end of May.  But, at Contact, where my colleagues and I work, we are still continuing to face the uncertainty of when the venue will reopen.  Another concern is that we can't predict how long it will take to bring the business operations back to how it was before the coronavirus.  
During the span of our temporary closure, Contact began a new challenge with our live-streaming every weekend with no audience on-site.  I feel that we've entered an era where we must take on new operation styles and bring new creative values to the table.
We ask the support from the people in order to continue our challenges in this new age to come.
< Ryo Arase >
It has been 4 years since I began my career at Contact from opening.  I would've never imagined the world to become like it is at the current moment.  
There are many fond memories that came along with hardships, and to see the empty dance floor as it is now, it truly made me realize none of those memories would have been possible without the people, artists, DJs, and staff members that all came together to create such an atmosphere.
We ask for your support in the effort to reopen the venue and hope to meet with everyone again, friends and friends to be, to continue to create new memories and new experiences to pass on to the next generations to come. 
< Chiyumi Ushiyama >
Thank you for watching LET'S START THE DANCE AGAIN until the end.  C from Contact.
People all over the world are experiencing situations that have never been dealt with before.  We are all uncertain of the outcome of all of this, Contact being one of many.  Under these circumstances, our lifestyles are undergoing change.  Despite changes, Contact has something that cannot be eradicated.  That feeling you can only acquire at a party.  We ask the people for the support in the effort fight through this hardship and to bring the people back.
< Naoki Saito a.k.a. C >