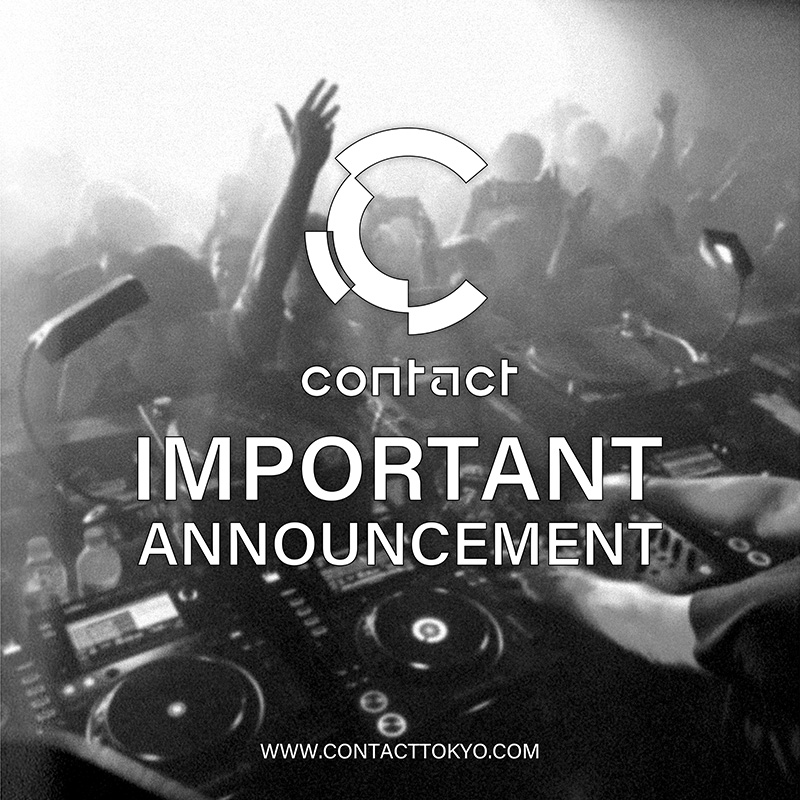 大切なお知らせ | Important Announcement
渋谷区道玄坂二丁目南地区第一種市街地再開発事業の施行に伴い、入居ビルが取り壊しになるため、2022年9月17日(土)をもってContactは営業を終了いたします。その後については残念ながらまだ決まっておりません。残すところ僅か半年余りとなりましたが、一つでも多くの記憶に残る夜を皆様と共に作ることができれば幸いです。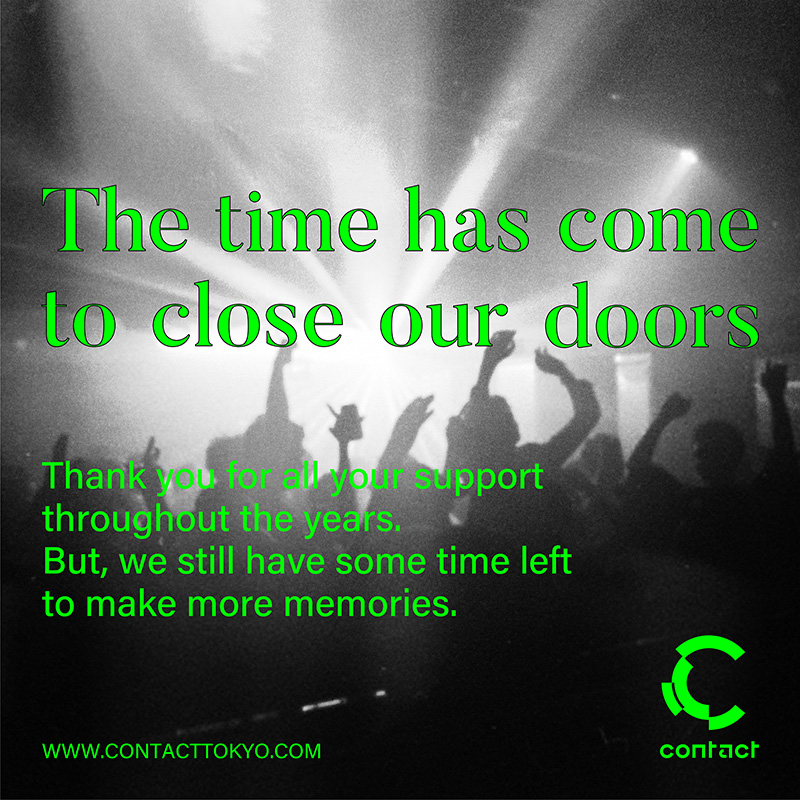 来たる4月22日、23日には3年振り、最後となるアニバーサリーパーティを開催いたします。
第一夜4月22日(金)には豪華ライヴアクトが集結し、2016年のオープンから馴染みのあるDJが出演します。
そして、第二夜4月23日(土)は、パンデミック以降初の海外アーティストとなるDJ Harveyをスペシャルゲストに迎えます。
皆様お誘い合わせの上、ぜひご来場ください。スタッフ一同心よりお待ちしております。
各パーティの詳細は下記よりご覧ください。
4/22(金) Contact 6 Year Anniversary Party Part 1
4/23(土) Contact 6 Year Anniversary Party Part 2 -DJ Harvey All Night Long-
Contact will host our anniversary party for the first time in 3 years, and for the last time
Due to the Dogenzaka 2-chome South District Type 1 Urban Redevelopment Project, the building we are situated in is to be taken down.  Therefore, Contact will be closing on 9/17/2022 (Sat.).  Unfortunately, nothing concrete has been decided yet regarding our future status.  We have only half a year left, but it would mean a great deal for us to have as many people make as many memorable nights as possible with the time we have left.
We will be holding our final anniversary weekend on 4/22 & 4/23, the first anniversary party to be held for the first time in 3 years.
On the fist night, 4/22 (Fri.), we've gathered splendid live acts, as well as the familiar DJs that have been with us since the opening in 2016.  And on the second night, 4/23 (Sat.), special guest DJ Harvey, the first international artist since the pandemic, will be gracing us with his presence.
We, all the staff, look forward to seeing everyone and their friends.